DOCSIS Provisioning, Monitoring, and 24x7x365 Support
All for $4.25/mo per subscriber or LESS!

Standalone Provisioning & Monitoring starting at $1/mo per subscriber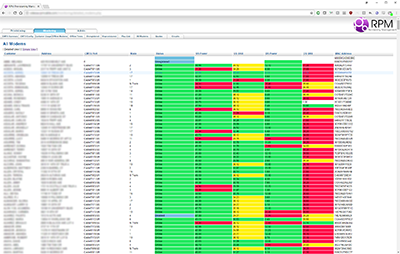 Our first and most robust product, RPM's DOCSIS provisioning and monitoring platform was designed with speed and ease-of-use in mind. Tired of your current slow, bloated provisioning system? RPM is a breath of fresh air. It's extremely easy to use and super fast, so your employees can spend less time navigating and more time adding customers or troubleshooting. It supports cable systems of all sizes with dozens to thousands of subscribers. It works with most popular CMTS systems and has full DOCSIS 3.0 support. It has a full API that can be used by third-party systems such as billing software to provide full integration and one-step provisioning. Included with our provisioning platform is RPM's expert network and systems experience and support. We can configure your CMTS, configure your edge router, recommend upgrades, and more.
Unlike the other cookie-cutter provisioning systems, RPM's platform is fully customizable. We are very open-minded and agile, and will customize your RPM system to meet your specific needs. Small customization requests are usually completed within 24 hours; often times on the same day! Larger customization requests receive a formal quote and timeline, and we provide regular updates during the development process.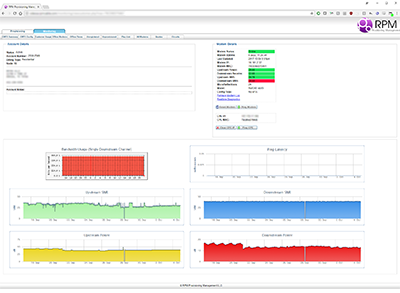 We also offer professional, 24x7x365, US-based customer support. Provided by our call center partner, our support is fully white-labeled, meaning when your customers call in they are greeted with your company name and agents who follow the scripts, policies, and procedures that you outline. In addition to providing support for internet customers, in many cases we can provide support for video customers! Using RPM, you can post outage notifications, status updates, maintenance schedules, etc. which become visible to our support agents. When a customer calls in, they can see any notifications that may apply to the cable system, as well as the individual customer's signal levels, SNR, ping stats, and more.
Summary and more:
For smaller companies, our base price for provisioning, monitoring, and 24x7x365 support is $4.25/mo per active subscriber.
For companies with more than 500 active subscribers, our discounted rates will shock you!
Full DOCSIS 3.0 support.
VoIP eMTA support.
Compatible with most major CMTS systems.
API for billing system integration.
Super fast and easy to use.
Customizable to fit your company's needs.
Hosted in the cloud, no hardware to maintain.
For more information or to schedule a live demo, please fill out our Contact Form or call us at 303-731-1076!